But he gives more grace. Wherefore he says, God resists the proud but gives grace to the humble. Submit yourselves therefore to God. Resist the devil, and he will flee from you.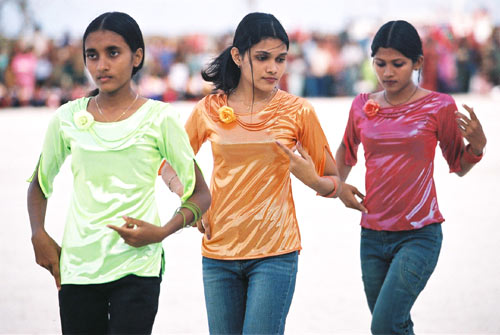 No longer can it be said that Maldives is 100% Muslim. After years of wicked oppression, torture and persecution, the church of the Lord Jesus Christ is growing. The Master says, Upon this rock I will build my church, and the gates of hell shall not prevail against it.
On the other hand, Islam claims advance in western lands. So who is right? Who is the winning side? Again the Master says, You shall know the truth, and the truth shall make you free. The truth is that if the Son shall make you free, you shall be free indeed. Countries that do not honour the Lord Jesus as the Son of God - these do not enjoy freedom at all. The state religion is forced upon them. It is considered illegal to believe otherwise.
If this were a "pure" islamic country, then why do Muslims continually fight Muslims? Does the Koran teach torture and imprisonment of dissident citizens? Why do paateys run riot and intimidate law abiding people? Why do American and other tourists loathe to travel where they are loved for their money but hated for their Christian faith? Is it a crime to send a Christmas card? Will the country collapse when a Bible is read on Boduthakurufaanu Magu? The renowned Jesus Film is freely shown in 900 languages and in most Muslim countries, but not in Male'.
The holy Injil clearly states: All men should honour the Son even as they honour the Father. He that does not honour the Son does not honour the Father that sent him. And this is the record, that God has given us eternal life. He that has the Son has life. He that does not have the Son of God does not have life. For God so loved the world that he gave his only begotten Son that whosoever believes in him should not perish but have everlasting life. Be not like the Jews to whom Jesus said, You will not come to me that you might have life!
Is there a happy church in your village yet? See the How to Start One Guide.
The holy Injil is the power of God unto salvation to everybody that believes. The holy Injil has been translated by Dhivehi believers in Jesus Christ. Books of Genesis and the Acts of the Apostles are currently in process. You can hear Dhivehi kudhin continually singing the praises of the Lord on GospelGo. If DhivehiNet or Dhiraagu blocks this website and the Dhivehi Observer, use a friendly proxy server. Every week Dhivehi Christian radio is heard in the atolls. Remember when they forbade you to receive it? Have you visited Sidahitun lately?