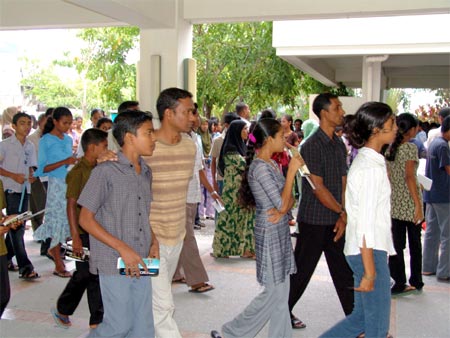 "There is no religious freedom in the Maldives -
that is why we are going to hell."
Muaviath was brutally tortured in Dhoonidhoo prison. He died recently. His brother testified that marks of a heavy boot were visible on the body. Police hastily buried the young man to hide evidence of murder. See related stories in the Dhivehi Observer.
Satan does not have complete control over the atolls however. Here and there courageous Christians meet secretly "for fear of the Jews" (aka NSS). The international church of the Lord Jesus Christ prays daily for friends in Hithadhoo, Fuvamulah, Alifu, Baa, Shaviyani, Noonu, Lhaviyani, Kaafu, Thinadhoo and Minicoy.
Many Dhivehin courageously listen to Christian radio. The Far East Broadcasting Company sends Dhivehi messages. Their schedule:
Seedhaa Hithun Radio
Wednesday - Friday - Saturday
9 PM Maldives time
7340 Khz
Jesus says, "You shall know the truth, and the truth shall make you free ...
If the Son therefore shall make you free, you shall be free indeed."
- holy Injil of John
Afghanistan vowed the death penalty to any Muslim that turned to Christ. Mullah Assad Ullah lived in Awdand region Ghazni province of Afghanistan. He turned to Christ. One day he bought food for his family at the local market. Fanatics slit his throat, dragged his body around the market place and shouted warnings to the people.
See for yourself, and be the judge whether brave Afghans are defying that cruel ban:
Sadaye Zindagi
Watandar
GospelGo Afghanistan
In 1950 Communists took over China. They outlawed all religion. Today millions are praising the Lord!
Fuyin
GospelGo China
Indonesians are turning to Jesus Christ by the thousands. Aceh was the most fanatic province. It was illegal to be a Christian there. Listen to our happy Aceh brother while he tells the story of Jesus:
GospelGo Indonesia
Mobs destroy churches in Sri Lanka. Christians in their ashes praise the Lord. In parts of India conversion is considered illegal. People turn to Jesus anyway.
Tamil Christian
GospelGo Sri Lanka
GospelGo India
Recently your friend Robert was banned from the 'Open' Forum of the Dhivehi Observer. He replied to an article on prostitution in Male'. His 'crime' was to quote what Jesus said about it. An adminstrator of the forum wrote: "Hello goboy (Robert's username),
The following is an email sent to you by Admin via your account on DO Forum - Maldives ... You should not discuss anti-islamic stuff here, especially all this Christian stuff, too sensitive and DO refrains from it at all costs. I will ban u if this continues. Please respect the rules the rules of this forum. Article 25 of the Constitution."
Robert respectfully replied that there is nothing in Article 25 that prohibits quoting Jesus. DO ignored Robert's reply. Maybe, like frightened rabbits, they fear the anger of some fanatic. Contact Mr Sappe for DO's side of the story.
Password problem?
Islam betrays Dhivehi mullah - Here is the true story of your fellow Maldivian tortured. He is my friend. Many of you readers know him too.
When America was struggling against the war with the Nazis, president Roosevelt said, "We have nothing to fear but fear itself". A year later, victory came! The enemies of Jesus rejoiced when they killed him. Three days later God raised his son from the dead. Victory came!