Uyghur Church of Jesus Christ
Jesus is the Son of God
Download the Uyghur Holy Bible - Chinese Holy Bible - English Holy Bible
Your Home - China - Kazakh - Mongolian - Altai - English - Arabic
Uyghur Bible Arabic script - Marhaba - Xinjiang
Injil.net - Uyghurlargha Hux Hewer - Uyghur - Uyghur Audiodrama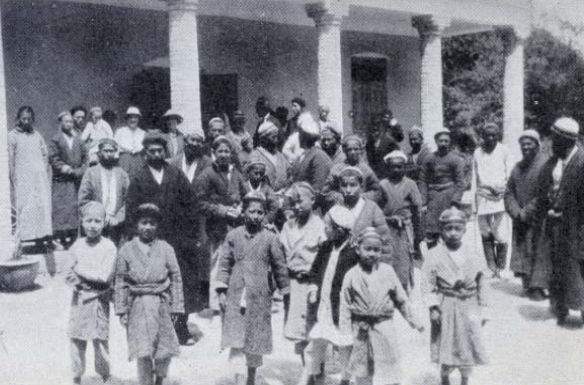 Happy Uyghur Christians
lekin, hazir biz ozini qurban qilix sewebidin xan-xerep we hormet taji kiydurulgen eysa mesihni korduq. u hudaning mehir-xepqiti bilen putkul insanlarni dep, bir mezgil perixtilerdin towen qilinip, olumning temini tetidi. putkul mewjudatni ozi uchun we ozi arqiliq yaratqan huda nurghun perzentlerni ozining xan-xeripidin behrimen qilix uchun, ularni qutquzuluxqa elip barghuchi eysa mesihni azas-oqubet arqiliq kamaletke yetkuzuxni muwapiq kordi. insanlarni pak qilghuchi eysa mesih bilen pak qilinghan insanlar hemmisi bir atidindur. xuning uchun, eysa mesih ularni qerindax deyixtin nomus qilmay, huddi muqeddes yazmilarda yezilghandek, hudagha: namingni qerindaxlirimgha jakarlaymen, jamaetchilik ichide seni qoxaqqa qetip medhiyileymen degen. u yene: men sanga ixinimen we qaranglar, mana men bu yerde huda manga ata qilghan perzentler bilen bille degen.
Uyghur 1<!UIGUMKN1DA>
Uyghur 2<!UIGUMKP1DA>
Uyghur 3
Uyghur 4
Uyghur Bible - Mukeddes Kitab
Uyghur Bible - New Testament Arabic script
Uyghur New Testament - Yaritilish Audio
Uyghur Hope
International Playlist
Jesus Story Audiodrama
Uyghur John
Uyghur: Central Asia John
Uyghur Songs 1
Uyghur Songs 2
Uyghur Way of Life
Uyghurstan
Uyghur Villages
Mandarin Bible - Unicode 中文
The Last Atheist
Brother Yun Video
Altai Алтай тили
Altai John
Kirghiz Кыргыз тили قىرعىز تىلى Kyrgyz tili
Kirghiz John
Kazakh Қазақ тілі
Kazakh John
Mongolian John
Russian John
Tajik тоҷикӣ تاجیکی
Tajik John
Tatar John
Turkish John
Tuvin John
Uzbek John
English John

Thank you, for your visit! our welcome visitors

"Proclaim liberty throughout the land."